The 5 direct mail trends marketers should turn to in 2022
Already got the message that direct mail gives great ROI on your marketing spend? Check out these 5 ways to really make the most of the medium…
Direct mail is on a roll. It's no secret that DM provides the best ROI – latest figures from the US reveal a DM ROI of 112%, beating second place SMS by 10%. In the UK, mail volumes by the close of 2021 Q4 were higher than pre-pandemic, and the global DM market is predicted to increase to $73 billion (€66 billion) in 2022.
Julián Penche, CEO of Spanish direct mail specialist Mailfactory, is seeing companies that had abandoned direct mail in the past few years returning.
Companies are again considering direct mail to be a very useful technique to increase sales
We've picked out five DM trends with the potential to help you reinvigorate your campaigns and navigate the uncertainties of a post-pandemic world.
1. Using personalisation for an instant uptick in your results
Getting personal with your customers is a key marketing trend in general, and no less important to DM. Mass mailings are on the way out, as technology makes customisation cost-effective and ever-more fruitful. Penche notes that, "If you send the right message in the right moment to the right person, then the rate of success increases." He cites one food-chain client that has switched from using standard discount coupons to sending personalised offers. This is only possible, he adds, if you keep your customer relationship management up-to-date with an actualised database. Knowing your customers is the only way to be able to tell them the right messages.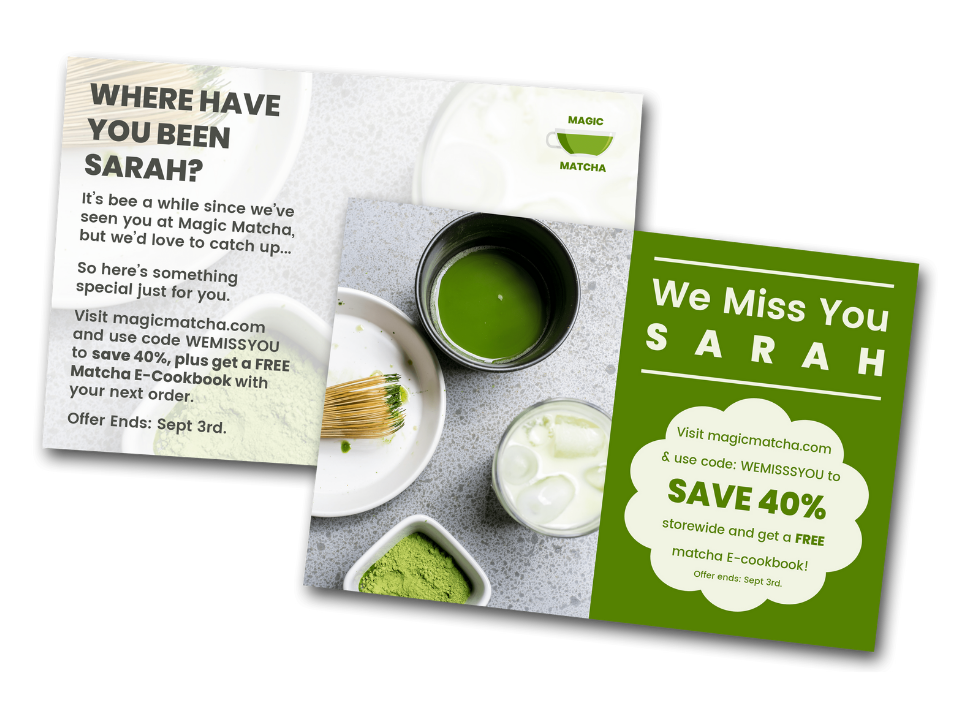 2. Turning to postcards for low-cost fast turnarounds
Some in the industry are calling 2022 the year of the postcard. Postcard direct mail has been on the rise for a number of years – over the past decade in the US it has gone from being the least popular format to the most (overtaking envelopes and self-mailers) – and it's expected to climb further in 2022. Easily customisable and available in different formats, postcards are also cheap to print and to mail.
Fast print turnarounds also make them ideal for retargeting strategies, which is another trend for the year (see below). Moreover, given that there is a trend for 'less is more' when it comes to DM content – the word count in direct mail has fallen by 62% in the US over the past 10 years – the postcard is ideal for getting across concise messages.
Then there is the supply-chain crisis currently bedevilling the paper industry, and which shows no sign of letting up. Anything that uses less raw materials is a blessing to marketers and printers struggling to find paper.
3. Teaming up with digital as local retailers welcome returning customers
As the economy began reopening in the UK in June last year, high-street retailers sent out millions of mailshots to entice consumers back into stores – and there was a 71% increase (year on year) in DM prompting visits to shops in Q2 2021. Now we're back in a similar situation with economies across Europe opening up again and retailers, many of which have struggled to survive during the last couple of years, will do all they can to entice shoppers back. As brick-and-mortar stores reopen, DM will be a key part of their marketing efforts, targeting their customers as well as trying to attract new ones.
Sending out offers and promotions, sometimes in collaboration with digital campaigns – is a way to remind customers that you exist and to welcome them back.
4. Making smart use of trigger-based campaigns and retargeting
Businesses will choose their moment to take advantage of trigger-based campaigns. Drawing on the benefits of personalisation (see point 1), brands and advertisers can send DM to a customer after being prompted by a specific activity, such as a visit to a website without making a purchase or leaving a shopping cart unfinished. Using a postcard or mailer – perhaps offering a discount code or other benefit – provides an opportunity to retarget a customer. Significant dates such as birthdays and anniversaries are also opportunities to automatically trigger a mailing. Using these DM techniques can be particularly effective with Gen Z-ers, who find an emotional connection with mail that may be missing from digital.
5. Ensuring marketing campaigns are sustainable
Sustainability is already a hot topic, with consumers increasingly holding business to account for their environmental impact. DM is no different, and customers will expect marketers to take the appropriate steps. Make sure paper stock is from a sustainable source and is FSC-approved; target mail smartly – using automation if necessary – to reduce quantities; use smaller mail pieces, which obviously require less materials and resources to produce; measure the carbon usage of each campaign; aim for zero impact by investing in reforestation projects.