What does your choice of paper say about your brand?
Our Sappi expert explores the importance of choosing the right paper to suit your brand and brand message – and offers some valuable pointers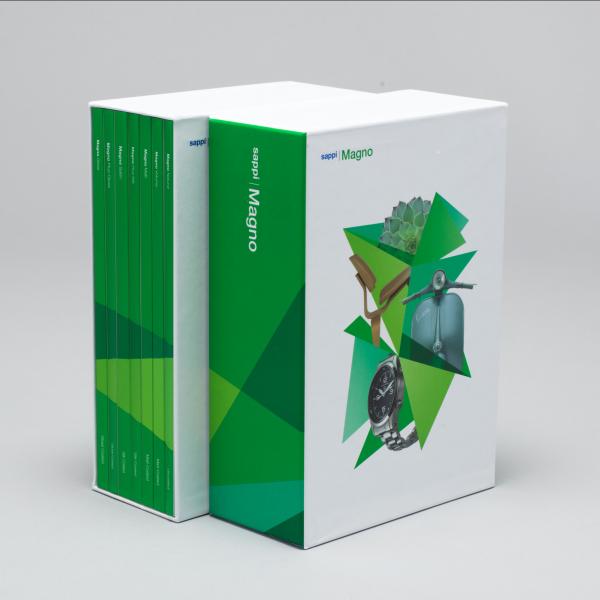 In a crowded marketplace, it's crucial for brands to stand out with clear brand communications – and print media can play a valuable role. Ultra glossy using die-cut, varnish or hot stamping will send a very different message to a brand communication using matte, uncoated or low grammage paper.  
 There is so much digital communication, with mailboxes overflowing with emails. In comparison, physical mail gets much more attention from consumers – it comes across as creative, innovative and thoughtful.
Aktas points to KaDeWe magazine, published by Berlin department store Kaufhaus des Westens, as an example of print media that harmonises with the brand's messaging. The oversize format, high-quality paper and contemporary look conveys all you need to know about the store's values. Similarly, upmarket Danish furniture manufacturer Boconcept produces a catalogue that uses high-quality paper to show off its products. "It is an experience to flip through the pages," he says. 
Generally, the higher quality the publishing papers, the more upmarket the brand message. "A higher quality feels more voluminous and substantial, which is perfect for conveying a luxurious brand message, such as you'll find with automotive or luxury goods" says Aktas. "Here, the stakeholder is choosing high grammages and high-quality papers to make the reader 'feel' the quality of the product." 
An important component of a paper product is its tactility – it's makes a powerful first impression when a customer picks up a print product. And it's something brands can use to their advantage.  
"For a car manufacturer, a high-gloss touch supports the idea of technical luxury, while for an organic fashion brand a more soft and natural touch might work better," says Aktas. And brands have a host of choices. "Our Magno paper is a good example – with Magno we have different surfaces from gloss to matt to natural uncoated paper, and even high-volume options. The marketer can choose the exact tactile experience that best supports their brand message." 
Another valuable component can be the use of special effects and finishes. "Paper finishing techniques can catch the audience's attention and highlight the special features of a product or brand," says Aktas. "For example, using flocking can help make a textile or fur feel three-dimensional, while a cold foil can make a logo or brand really stand out. Meanwhile, a special spot varnish can draw the eye to a beauty product such as a lipstick application. These effects can bring a 'wow' factor to brand communications – one that the customer remembers." 
Aktas also points out that, with all the options available, it's easy to mix and match. "You could take a low weight, high-volume paper that can combine the best of two worlds: the low grammage brings savings in shipping, while the high-volume paper still delivers the haptics suitable for a high-quality product and brand." 
And it's not all about luxury products and premium-positioned brands, either. As Aktas notes, while high gloss "comes across as very technical, modern, and says high-end product," matt is great for "readability and a more modern look that is often found in food magazines and text-heavy brochures".  
Uncoated has a natural look suitable for brands wanting to underline a pure or wholesome message. While satin is "the generalist, when high-quality pictures are important, along with readability. It's perfect for furniture, cooking and gardening publications". Low grammage is great for more affordable brands who may have a larger selection of products. 
All the same, it's important to note that these are general rules. "They can be bent and broken in creative and innovative ways," says Aktas. "For example, fashion magazine die dame specifically uses glossy paper for copy-heavy pages and more matt, voluminous paper for the pictures – and the effect is amazing."