From fossil fuels to renewable bioenergy
Sappi has an ambitious decarbonisation roadmap – with the switch to renewable bioenergy at its flagship Kirkniemi mill leading the way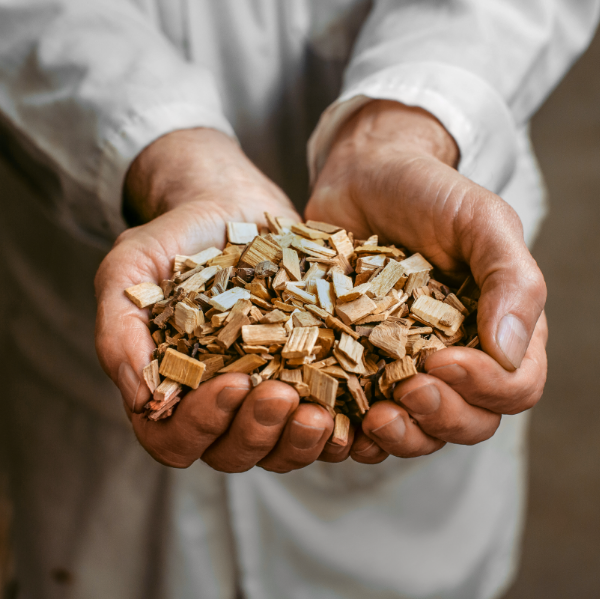 Thanks to an eight-year programme of investment totalling more than €15 million, Sappi's Kirkniemi mill has successfully made the switch from using fossil fuels to renewable energy – meaning a 90% reduction in direct greenhouse gas emissions.
New, state-of-the-art facilities and machinery for the reception, storage and handling of biofuels – largely locally sourced biomass residues such as bark, sawdust and wood chips – have gone live at the mill's power plant. Twinned with the multi-fuel boiler built in 2015, this new capacity means that the mill is now capable of saving some 230,000 tons of carbon dioxide annually – slashing Kirniemi's direct CO2 emissions at the same time as substantially reducing the greenhouse gas emissions of the whole city of Lohja.
Not only that, but as a result of the new technology coming online, the carbon footprint of the Galerie paper range itself is being slashed, at a stroke, by a massive 40%.
The official inauguration of the mill's new facilities at the end of August was attended by Kai Mykkänen, Finland's Minister for Climate and the Environment, who spoke about how Sappi's investment at Kirkniemi contributes to his country's ambitious goals for carbon neutrality and leadership in the new energy sector.
A focus on sustainable development
All this comes as part of a longstanding sustainability focus at Kirkniemi that has, in recent years, brought continuous improvements in environmental performance across areas including freshwater usage, emissions to watercourses and energy efficiency.
According to mill director Marti Savelainen, "Sustainable development sits centre-stage at Kirkniemi, and we are proud to be making a substantial contribution to Sappi's wider decarbonisation roadmap and the company's Science Based Targets Initiaive (SBTi)-approved carbon-reduction goals. Paper is already a product that makes a valuable contribution to the creation of a bio-based circular economy. By shifting to renewable, woody biomass, Kirkniemi is positioning itself as part of the solution to climate change."
A Europe-wide effort
Sappi's Finnish mill is leading the way for the company across Europe. Modernisation of the powerplant boiler at the Gratkorn mill in Austria recently allowed a switch from coal to the use of biomass and natural gas, so reducing that mill's carbon footprint by 30%.
Elsewhere, the Maastricht mill in the Netherlands has installed a new e-boiler that runs on electricity rather than natural gas, while other Sappi decarbonisation initiatives are centred on efficiencies and optimising processes.
The print industry across Europe is doing good work in championing the benefits of the recyclability of paper and its place in the circular economy. But given the imperatives of climate change alongside initiatives such as the European Green Deal, which is pressing for a climate-neutral continent, there is more that can be done. Decarbonisation – the reduction or elimination of fossil greenhouse gas emissions during production processes – plays a crucial role in the fight against climate change.
An ambitious roadmap for decarbonisation
In 2020, Sappi Europe released its own Decarbonisation Roadmap, which outlines nearly 80 projects Sappi is set to undertake by 2025 to meet its short-term energy-related sustainability targets. This includes a reduction of specific greenhouse gas emissions by 25% alongside an 11% increase in the share of renewable energy (both compared to 2019). The strategy relies on three main priorities: exiting coal and shifting over to carbon-neutral biomass or natural gas; procuring more green electricity from the grid; and improving the 'eco-effectiveness' of all European mills to improve energy efficiency.
Sappi Europe's Decarbonisation Roadmap is part of the company's overall global environmental objectives, which have set targets aligned with seven of the United Nations' Sustainable Development Goals. Realising the urgency of action to limit global temperature rise, Sappi is committed to reducing carbon emissions by 41.5% per ton of product by 2030.
At Kirkniemi, that commitment has come to life on a major scale.